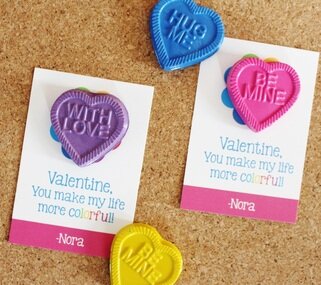 I absolutely adore Valentine's Day now that I have children! I think the little sweet sayings and treats are just so cute…..so much so, that it was hard not to get carried away this year with new design concepts.
This first Valentine we are sharing this season was inspired by one of my favorite party favors….custom crayons. We hopped on over to view our friend's at Red Elm Designs creations this year to see what designs and sizes were offered, then came up with this cute tag to pair with them.
As the mother of a 3 and nearly 2 year old, I am not a huge fan of receiving lots of candy from classmates on Valentine's Day. With that in mind, we created these "You Make my Life More Colorful" tags to tie to art supplies or to attach a 1.5″ crayon like shown to using double sided tape or 3D glue dots (available at local crafts stores like Michael's).
---
Our
"You Make my Life More Colorful"
Valentine's Day favor tags are available in both pink and blue and can be personalized.
For these adorable 1.5″ sentiment crayons in assorted colors to add to our tags, be sure to visit our friends at Red Elm Designs.
Be sure to shop our entire collection of Valentine's Day items this season!
---