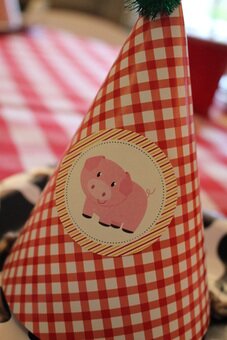 One of my favorite party items to create is a custom party hat. Not only is it a simple DIY project, but it is an affordable way to add a "Crowning Detail" to any party theme.
What you will need:
-Solid color party hats or square paper (Shindigz is one of my favorite online party supply stores for solid color hats; Michael's has an amazing selection of fancy and patterned papers)
-2″ round cupcake toppers or decorative party decor pieces
-Pom-poms
-Satin Ribbon (elastic can sometimes hurt prek kiddos as they don't often understand that it can hurt if they play with it)
-Hole punch
-Glue
When creating your own party hat using the template provided below, simply trace around the template and cut. When assembling the hat, use 2 staples along the seam to hold (please note that with heavy card stock or thick papers, glue will not be strong enough to hold it together).
Next, cut out your 2″ decorative piece and attach it to the hat using tacky glue or scrapbooking tape. Then, glue your selected pom pom to the front, top portion of your hat. And finally, punch 2 holes on either side of the hat and tie your satin ribbon into knots (make sure that the ribbon is long enough to tie the hats onto your guest's heads).
---