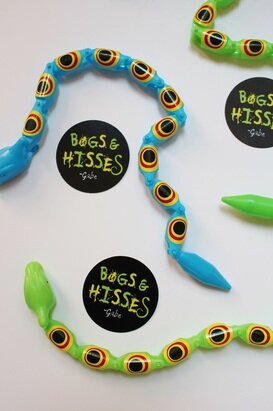 Who remembers these fun snake toys from their childhood!?!? I used to love playing with these little guys….So, for this Halloween, we paired this fun "Bugs & Hisses" gift tag with these toy snakes from Oriental Trading.
These are so much fun for children to pass our to their classmates as a non-candy classroom treat!! While I love candy, and so do my kids; as a mother, I SO much appreciate when they come home from their classroom parties with fun things to use or play with as opposed to a bag of candy that I often toss the next day.
These toy snakes make a great Halloween surprise that they will play with beyond the holiday.
Simply download your file, print, use a 2″ craft punch to cut our your personalized tags and then either tie to the snake directly, or to a clear cellophane gift bag.
Shop these fun Bugs & Hisses gift tags in our online store.
​Happy Halloween!!