We are so glad you decided to swing by Henry's Spiderman birthday party! We had so much fun pulling together all of the fun details and hope you find inspiration for your upcoming event.
Spiderman Birthday Party Decorations
Our inspiration pulled from this comic style Spiderman birthday party invitation available in our online store. We chose a crisp white linen to serve as the base for our dessert table. The coordinating printable Happy Birthday banner was draped across the table using straight pins to secure. Since we were outdoors and had this amazing structure to work with, we suspended a cardboard 3D Spiderman from the ceiling. Then, draped spider webs across the rear of the table to create a backdrop for the table.
To add height to the table, we created DIY buildings using a variety of patterned gift wrap and black card stock for the windows. For added punch, we added components from our printable Spiderman photo prop collection to the buildings.
Spiderman Birthday Party Desserts
In addition to Henry's birthday cake, we offered guests a choice of Spiderman cake ball pops or Spiderman sugar cookies. Both were not only delicious, but perfectly executed with flawless attention to detail. We displayed the Spiderman cake ball pops in simple pieces of floral foam wrapped in paper.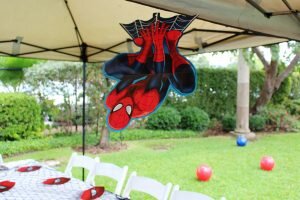 Spiderman Birthday Party Favors
My recommendations for party favors generally includes dress-up items or usable toys. Each guest at Henry's party took home a fun Spiderman mask, that also doubled as table decor. And, they were able to choose their color of silly string wrapped in our printable design reading "Thanks for Swinging By!".
We hope you enjoyed swinging by Henry's Spiderman birthday party! For more superhero party ideas, don't miss our Batman birthday party or Black Panther birthday party! Or, if you are set on a Spiderman birthday party, don't forget to browse our party printables collection.
Vendor Credits:
Party Design and Printables: Crowning Details
Cake Pops: Angie's Cake
Spiderman Cookies: Whoo's Bakery
Hanging Spiderman: Oriental Trading
Spiderman cups, plates, masks and bridge display: Birthday Express