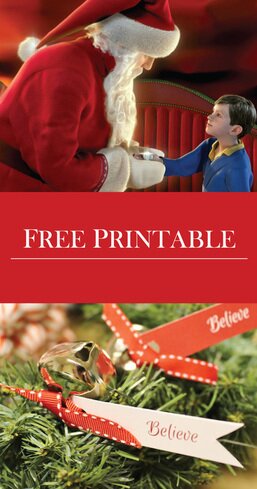 Every holiday season, one of our favorite traditions is to sit together to enjoy Christmas movies.
My preschoolers absolutely love the magic of the movie, Polar Express. And….I have to admit, that I love the movie as well. There is something magical about a child's belief in Christmas and I know that I will be sad down the road when our children stop believing….
But for now, we are full force into Christmas everything and celebrate not only the meaning of Christmas, but the commercial side as well. This year, weather hosting your own movie watching pajama party as a family, with friends or with school mates, give out a bit of your own holiday magic with our FREE "Believe" printable and over-sized bells from Oriental Trading.
These little magical bells also make great stocking stuffers!!
Simply download, print and trim our printable shown below and attach using your favorite Christmas ribbon to these fun bells.