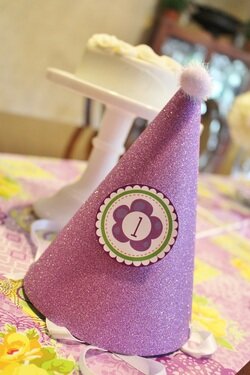 Let me share with you this sweet fairy 1st birthday party that we pulled together in 48 hours, for under $100 total!!!
Whenever you see beautiful party spreads and pictures online, one of the first things that may pop into your mind is cost….how much did the party cost? How much did the decor run? Is it possible to throw my child an amazing party within my budget?
Whenever I help parents plan an event for their child(ren), one of the first things I always ask for is their party budget. The cost of a party is dependent upon a number of factors; guest count, party location, food served i.e. lunch/dinner, favors given out, etc.
What I will share is that parties can be planned on virtually every budget!
The party shared in this post ran slightly under $100 total (20 guests), including desserts!
Let me share with you some of the simple DIY projects that helped keep this 1st birthday party on a $100 budget:
-The purple floral table runner shown was $1.50 from Michael's Crafts; it is the perfect size to act as a table runner and worked to pull the party's color scheme together
-Printable files $15 plus $13 printing costs at FedEx Office
-We used grocery store cupcakes and added decorative paper toppers ($3.99 per dozen)
-2 hydrangea bunches- $8.99 each
-We chose a small smash cake also from the grocery store. You never know what you can find out there! For example, our Whole Foods offers small smash style cakes that you can easily dress up in 3 flavors for $8.99
-The hat was a $1 sheet of paper with adornments…a sweet surprise for the birthday girl
-The fairy wands were paper toppers added to white food sticks, with decorative ribbon attached ($3.99/spool)
-She borrowed fairy wings from her neighbors for the guests to play with during the party
-Paper cups from the Dollar Store (12/$1)
-Paper straws ($1.50 for a pack of 10 from Michael's crafts)
-Favor boxes- 59c each with tags…..filled with bulk candy
With these money saving ideas, we created a sweet 1st birthday celebration for this adorable baby girl! Hopefully these tips help inspire your next celebration!!
---